No matter your religion (or lack thereof), you can't argue it has had a big hand in shaping a lot of the world's culture and society. Learning more about it can help strengthen your understanding of a specific country. In terms of Korea, a unique experience to learn more would be to participate in a temple stay program. I was lucky enough to have one sponsored by my education office, and we stayed at Naesosa in Buan down in Jeollabukdo. Here's what it was like experiencing a Korean temple stay.
Experiencing a Temple Stay in Korea
Naesosa's programs are two days and one night. We arrived around 4 pm in the afternoon on a Thursday and quickly changed into a T-shirt and perhaps some of the most comfortable pants ever. We swapped our sneakers and heels for some jelly material flats, made to be worn with socks. We then went into one of the rooms for an introduction to Buddhism from a monk and experienced making the vows to Buddha (don't worry for those of you who are not comfortable with this due to your personal religion. It is perfectly okay to step back and observe rather than participate), and went over the program itinerary. We then had dinner in the temple's small dining hall. Since monks do not eat meat or fish, our meal was entirely vegetarian and incredibly healthy.
Followed by dinner, we went to Daeungbojeon (대웅보전), the main temple to experience the chants and bows monks go through as well as a small tour of Naesosa. We were given some free time to relax before a 9:00 p.m. bedtime…
Because we had a 4:00 a.m. wake-up call! Yes, you read that right. Monks' morning prayers begin at 4:30 a.m. Typically they include 108 bows, but thankfully we were simply informed of this (108 bows is exhausting on the back in normal conditions let alone at 4:30 a.m.). After the morning prayer, we went back to meditate for about half an hour. We then had a Monk's meal for breakfast, learning patience and ritual in eating.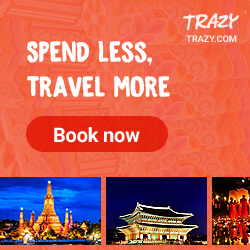 After breakfast, we painted designs based on temple paintings (I made a lotus flower), and then we had a choice to go for a small hike up in the nearby mountains or make prayer beads. After initial reluctance, I went for the hike, and I get it now why people like hiking so much! We went on a small hike, and the views were absolutely stunning.

We went home after lunch and a closing ceremony, stopping by a very cute coffee shop along the sea en route home. Overall, it was a lovely experience, though very rigid in its nature. I would recommend participating in one at least once during your stay in Korea.
Getting There
The best way is by Express Bus: You can take any express bus to Buan Terminal. From there you can take a local bus that'll cost a little less than 3,000 won and take 50 minutes or a much easier way is to take a 30-minute taxi ride for about 20,000 won altogether.
Similar Stays
While I went with my education office, you can find more information here. You can also book similar temple stay tours below. Just click on the links to see the pages.
Geumsansa Temple Stay – You can choose from a 3-hr program or 2 days, 1 night. Geumsansa is in Bukhansan, which is near Seoul.

Hwagyesa Temple Stay

– They have a few different options from a 4-hr program to 2D1N programs. Hwagyesa is also in Bukhansan.
Jogyesa Temple Stay – Jogyesa is in the Jongno district of Seoul, and it offers a 2-hr program as well as 2D1N programs.
Have you experienced a temple stay before?
* This post contains affiliate links.