You know how exciting the first snow of winter is? There's this breathless magic that suddenly appears. All of a sudden, the bristling winds are instantly forgotten as we're transported back to childhood winters filled with ice skating, sledding down the best neighborhood hills, and staying outside until our noses are runny and the tips of our ears bright red.
Well, cherry blossom season is to spring what the first snow is to winter. It's so brief if you blink you'll definitely miss it. For about a week, towns are suddenly alive with activity. Food vendors bring out their hot dogs, potato chip swirls, and ddeokkbokki. Students linger outside between school and hagwon. Kindergarten teachers plan afternoon recess playing underneath the blossoms instead of huddle inside.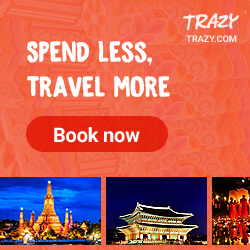 Often associated with East Asian culture, specifically Japan, cherry blossoms are spring's way of letting us know that winter is finally over, and we can start to look forward a spring filled with sun, blue skies, and lighter layers. They're obviously not quite as common as they are in East Asia, so if you find yourself in an East Asian country during the early spring, you have to get yourself to explore the ephemeral magic while it lasts. And where's the best place to see them in Korea?
Hwagae Cherry Blossom Festival (화개장터 벚꽃축제)

Down in Gyeongssangnam-do, Hwagae is filled with 4 kilometers or roughly 2.5 miles of cherry blossom trees. Truly in the Korean countryside, you will find little in the way of modern buildings to ruin your view.
To give you an idea of how romantic this place can be (even when you're competing with dozens of other cars to find a place to park), it's also nicknamed the "marriage road."
I went on a whim with friends for the 2015 Festival, and it was stunning. I guarantee if you get there early in the morning (six or seven), you won't run into quite as large as a crowd as we did. We arrived around eight and found ourselves in a long line of cars just hoping to find a way to get out and explore. We even saw folks popping up from their sunroofs to capture the blooms while their drive navigated traffic.
How to the Hwagae Cherry Blossom Festival
The festival is in
Option 1: 

You can drive and park along the road.

Option 2: Take a bus to Hwagae Bus Terminal (화개 버스터미널). You can get a direct bus to the terminal from Seoul Nambu Bus Terminal (서울남부버스터미널). If you're coming from an area outside of Seoul, you might have a few transfers. The bigger terminals that go into Hwagae are: Busan (부산), Jinju (진주), and Gurye (구례).

Once there, 

cross the bridge. Walk about 100m and you'll see Hwagae Market. You can't miss the two and a half miles of pure pink.
More Information on Hwagae Korea
Where are your favorite places to see these gorgeous cherry blossoms?
SHARE HWAGAE CHERRY BLOSSOM FESTIVAL ON PINTEREST

** This post contains affiliate links